"DI LONTAN"
Clean Feed
2015
All music by Powertrio except #3 composed by Constança Capdeville, adapted for piano, harp, guitar e idiophones by Powertrio
Recorded by Joaquim Monte, assisted by Pedro Silva at Estúdios Namouche, Lisboa
Mixed and mastered by Eduardo Raon in Ljubljana
Produced by Eduardo Raon, Joana Sá e Luís José Martins
Executive production by Trem Azul
Photos by Tiago Cação
Design by Travassos
The horizon line, a mountain's profile or a curve on a beach, set out the sand's sparkling fabric, and too of the ice, and the mirrored stars far away on the sea. Ancient lights, old rock sediments, unique and unpredictable ephemeral snow flakes cause that unstable and bright sparkling which is, after all, a sign of life in inanimate things.
Di Lontan is a fragment of Joana, Luís and Eduardo's life. They reunited in 2014 to give birth to a bright, transparent new music in which the energy of each note, idea, of all sounds is featured in its plenitude. Improvisation is still the driving force behind their sounds' succulence. Sometimes blazing, explosive. It comes wrapped in subtle forms that ensure a continuum, simultaneously delicate and effective. It is sparkling due to its ability to overcome the sound fingerprint of all three instruments – guitar, harp and piano – the characteristic attack-decay. Powertrio invents itself a new nature, coming out of new materials and composed resonances, accomplishing a thorough and flowered granular aesthetics. An encounter, empathy, tolerance, freedom – the music of three musicians. These three musicians.
Intertwined accelerations of smooth isorhythmic patterns, in the beginning of À Flor do Mal, lead to a granular music able to water down harmonies into sound clouds. In O Nervo e a Outra Dança a harp's thick, low melody, a distant passacaglia reminiscence, is revealed as an anticipated resonance, then swallowed by an epic and evolving crackling just to, in the very end, give place to a few fluted electronic arpeggios as fascinating as delicate. Di Lontan fa Specchio il Mare is a sort of "detachment and sentiment" as defined by Manuel Pedro Ferreira, but in Powertrio's version and interpretation the memory of the fixed, hieratic sound material is further defied in the lengthening of times. If, on one hand, Di Lontan begins with a decay/resonance without attack, on the other hand, the echo of all heard so far is glimpsed in the stretched constructed resonance that abruptly ends Divertimento, a piece full of life, breathing among waves and particles, both diatonic and percussive.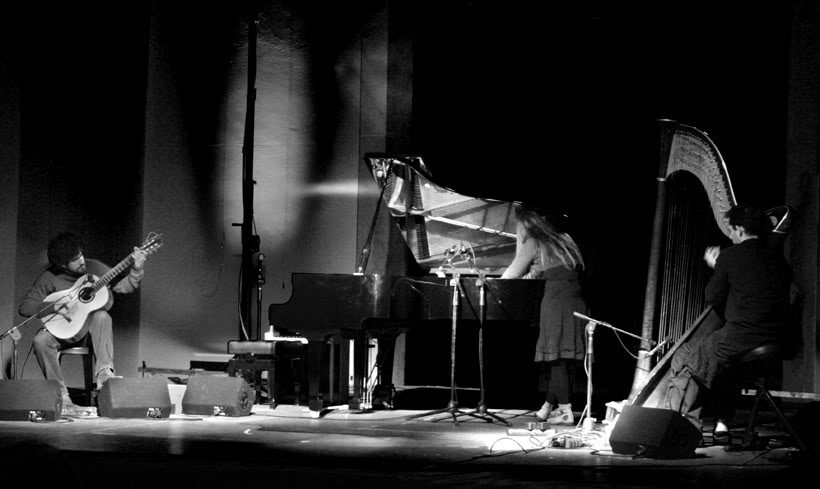 POWERTRIO – is an ensemble dedicated to composition/interpretation of contemporary music and also to improvisation. Started in 2007 by three composers/interpreters with classical background and vast experience in other musical genres. This rare instrumental combination allowed Powertrio to develop a unique sound, taking advantage of the idiomatics of each instrument as well as of the vast "chamberistic" possibilities of this ensemble. Aware of classical's music legacy, POWERTRIO uses and subverts contemporary musical archetypes, logics and solutions questioning and seeking integration of crossmedia resources.POWERTRIO – whose name derives from the classical Rock music line-up (guitar, bass and drums) – refers to the attitude, drive and intuitive musical action that best sum up Rock music. In a place where composition and spontaneous musical gestures battle/clash/compete, POWERTRIO performs (onstage) a narrative based on intensity.The audience is invited to experience a place where dimensions morph and where scale, space and time notions are manipulated revealing a peculiar sensorial path.For that purpose POWERTRIO aproaches the piano, the guitar and the harp with no restrictions.
"WHAT WE THINK WHEN WE WALK AND WHAT WE WALK WHILE THINKING"
Creative Sources CD 147


2009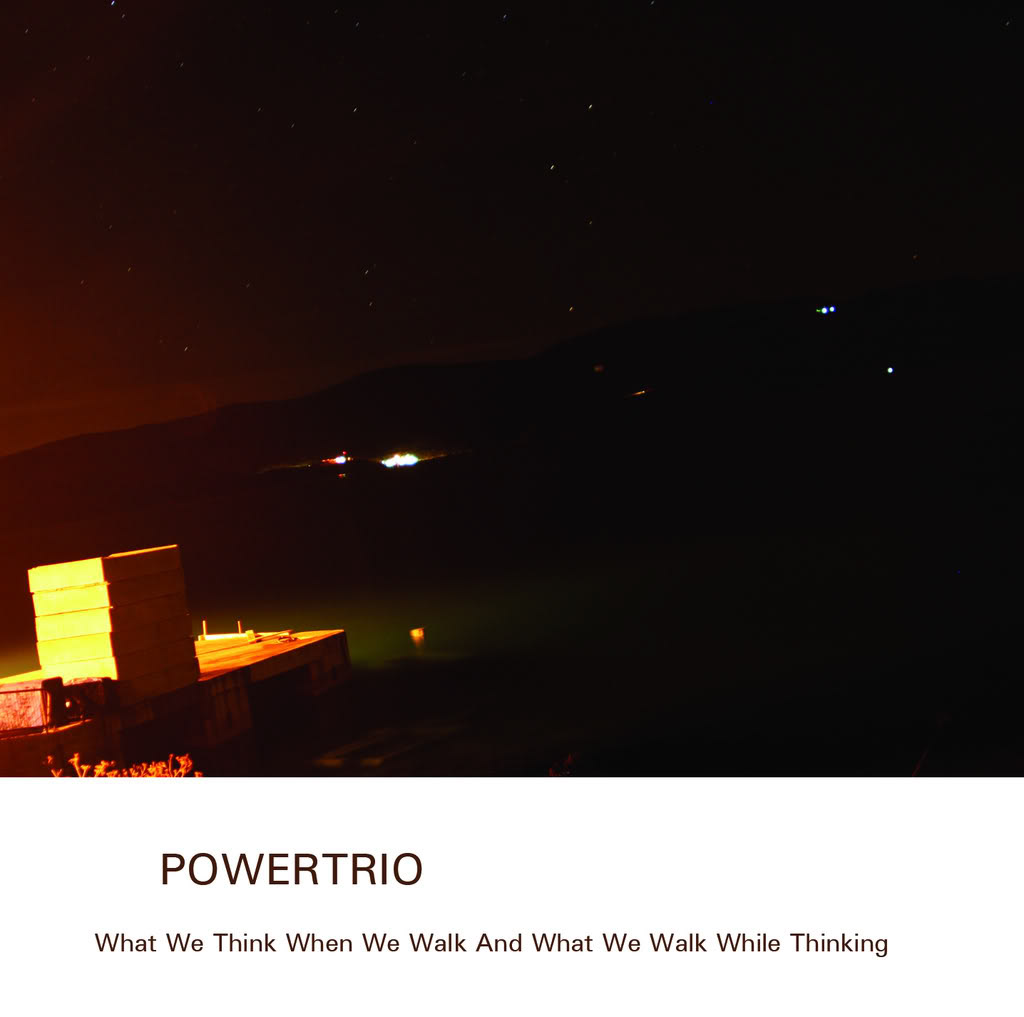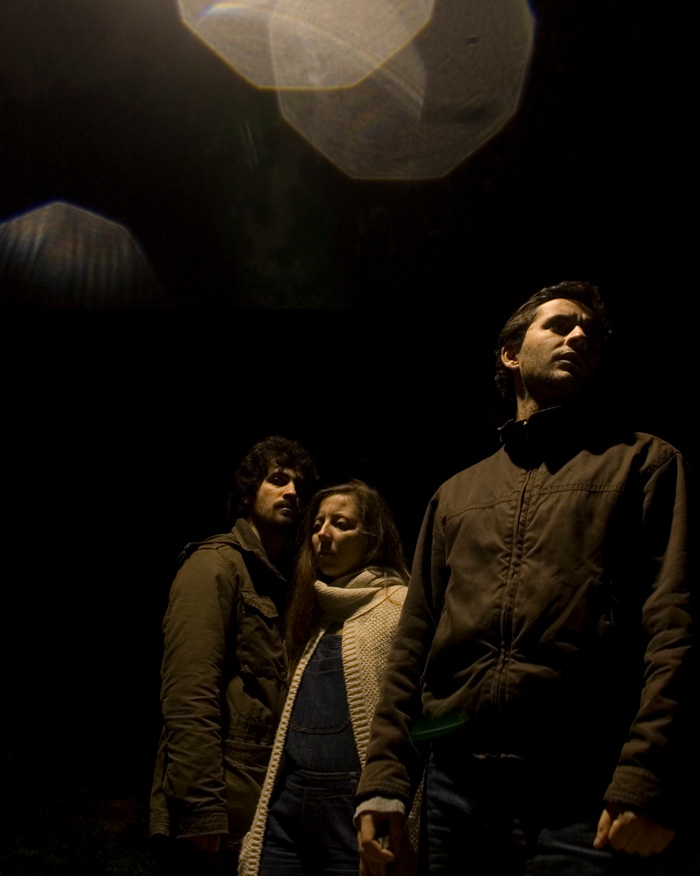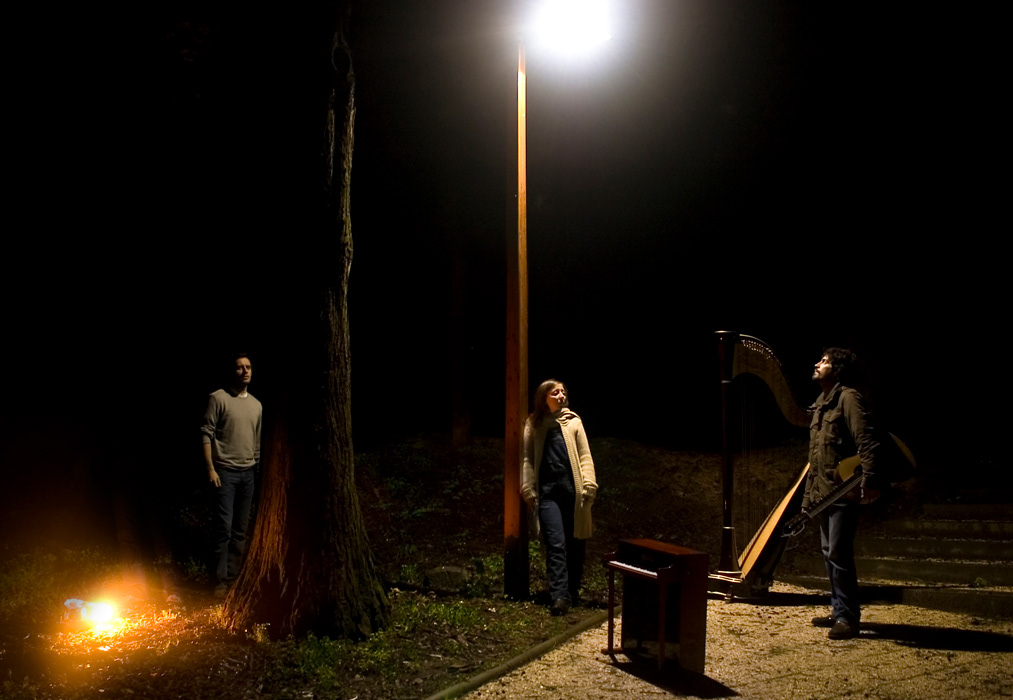 "FOUR IMPROVISATIONS"
Centa
2008