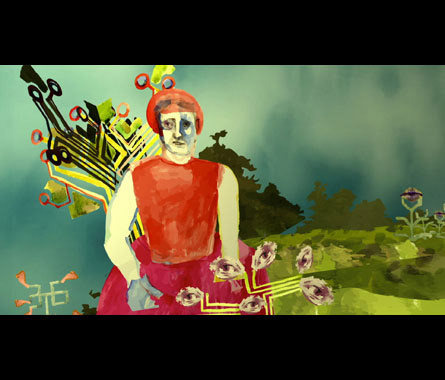 "Instances Of Commediation

" by Rita Sá, 

2009, 5-channel HD video/sound installation
Instances of Commediation is a multichannel installation that reflects on the abrupt changes that are occurring on social relationships deriving from the emergence of new "communicational spaces", through social media. The set up is envisioned to recreate the multiplicity of environments we live in today, along with our spatial impermanence. Five LCD screens show different perspectives of the same events that are occurring. These events are fictional and start as watercolor paintings that are later animated. This process of remediation (Bolter and Grusin 2000) and of the adjustment of an elder medium to a new one, comes almost as an analogy to the adjustment of our traditional social behaviors to new spaces of social interaction.
Sound Composition: Joana Sá
Sound Recording and Production: Eduardo Raon